Do you want to create a Facebook ad campaign?
 Or 
Do you want to promote your business or brand?
If yes, you are reading the right article where you will find the easiest way to learn how to create a Facebook ad campaign and promote it effectively. Once you have set up the business page or Fan page, you can proceed to create your first ad campaign. As a beginner in digital marketing, you have to learn everything from scratch.
Begin your learning journey…
Facebook Ad Campaign
Follow These Simplified Steps… 
Open Facebook Business Page or Fan Page
Open your Business Page or Brand page; check the upper right corner and click the drop-down arrow. From the list, click on the Create Ads.
Facebook Ads Manager
After clicking on the Create Ads, you will be directed to the Facebook ads manager page where you will start to set up the Ad campaign.
Now you need to set up your campaign objective from the given options like Awareness, Consideration, and Conversion. Then proceed to set up Ad Account and click Continue.
Further, you can turn on the split test and budget optimization button. But you have an easy option for setting up the campaign- Switch to Quick Creation option, check the upper right section of the page.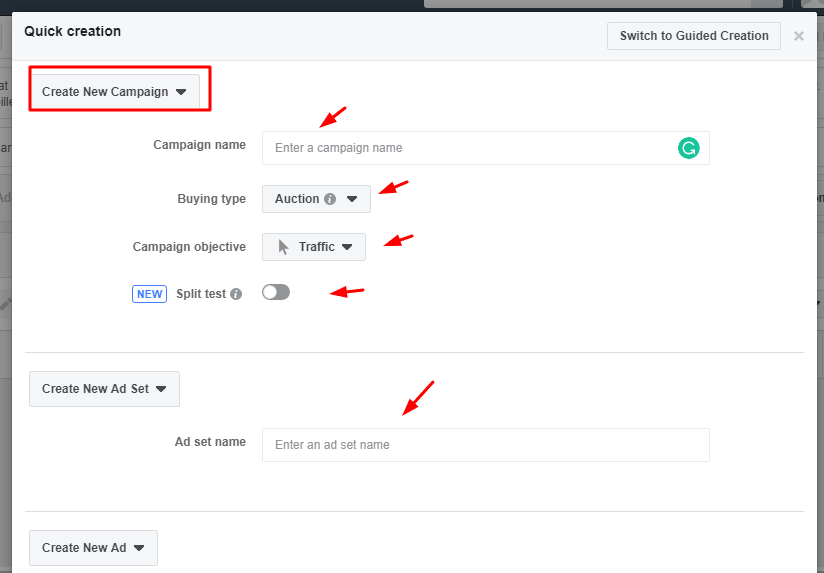 Facebook Ad Set
Don't worry; you are very close to your goal. Now create an Ad Set where you can set traffic, offer, audience, placements, and budget & schedule. Check the marked areas of the image and finally, you have created your ad set.
Set up Ads
Next step is simple; proceed to set up your ad under identity, format, and link.  Fill up the necessary information required for your ad. Review your ad and click Confirm.
Facebook Ad campaign-Ready
Now your Facebook ad campaign is ready but it will remain under review. After approval, your ads will start running and you will be notified about it.
Facebook Promotion & Insights
Facebook Campaign Management is of extreme importance. You can manage and monitor the ad campaign by clicking on Promotion and Insights to analyze it completely.
Check out this video to understand it better-
How to Create a Facebook Ad Campaign
I hope now you can create a Facebook Ad Campaign. Read the Facebook Advertising Guide and Social Media Marketing Guide for marketing tools. In case of any query, write to Tarannum Khan at digitaltarannum@gmail.com. 
Do share your views & connect to my Facebook, Twitter and LinkedIn accounts.